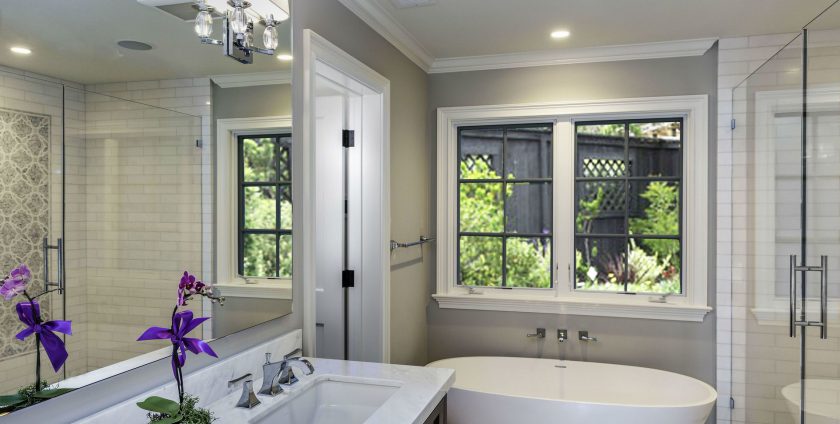 Spring is officially here, which is the perfect excuse to update your bathroom tiles ready for the season ahead! The dark gloomy days are (hopefully) over, so why not inject some life into your bathroom with pattern, print & colour. Granted, we don't all have the time, or funds to rip out the bathroom and start again. However changing or adding tiles is the ideal way to create a completely new look in your bathroom.  With an extensive selection of bathroom tiles we have picked out our favourite 4 tile choices perfect for spring:
Bathroom Tiles Ideas;
Impact Jasmine Glass Tiles
These beautiful Impact Jasmine Glass Tiles will add a subtle glow to your bathroom ideal for creating the illusion of soft sunlight all year round. You can choose from a variety of sizes depending on how much colour you wish to add to your space. These stunning wall tiles will add a touch of class to your bathroom with their luxurious gloss finish. What better way to create a feeling of spring than adding a pale yellow tone to your interior design? Even better these tiles create a stylish contrast when teamed with a modern white bathroom suite to give a high quality finish.
Impact Pashmena Glass Border Tile
If you only wish to add a hint of spring colour to your bathroom design then choose the attractive Impact Pashmena Glass Border Tiles. The dusty pink colour can infuse a floral tone into your bathroom design without being too bright. These border tiles have a gloss finish so that they can really catch the eye and create a designer finish. You can choose from a variety of tile sizes depending on how much spring colour you wish to inject.
Laura Ashley Artisan Duck Egg Wall Tiles
Duck egg has been a popular colour choice with interior designers for a few years now. We think it is ideal for adding a fresh spring touch to your bathroom design. From our Laura Ashley Tiles collection these Laura Ashley Artisan Duck Egg Wall Tiles look great when teamed with the Artisan White Wall Tiles to give a pretty contrast. These ceramic tiles have a handmade feel which will help create a rustic or vintage inspired look for your bathroom. This is perfect for more traditional bathrooms.
Laura Ashley Marchmont Blue Tiles
Spring creates images of floral patterns and patterned tiles are a good way of injecting this style into the bathroom. These stylish Marchmont Blue Tiles can bring a really fresh look to your bathroom with it's cool blue design. A patterned tile feature can create the ideal backdrop for a freestanding bath or for a unique look within a luxury shower enclosure. The glossy finish will add a designer touch to your bathroom whilst offering a suggestion of colour.
All of these modern wall tiles can help you to create a spring like feeling in your bathroom. With their subtle pastel colours they will add a fresh look to your bathroom design. Such is the range of bathroom tiles available you are truly spoilt for choice in terms of colour and design.
Source: https://www.bellabathrooms.co.uk/blog/give-your-bathroom-a-spring-refresh-with-these-bathroom-tiles/